Introducing colorful wall fiber art...
We now offer art quilts made from natural, textured linen and appliqued with cotton fabric. Machine stitched. Made to order. Please e-mail us at
sales@tanticolori.com
for availability and pricing.
---
Pillows...
All our pillows are made of pure linen and cotton, with an addition of a little bit of silk. They are handcrafted in our studio in Madison, CT. The pieces of fabrics are cut by hand and meticulously stitched to the background; slight variations in shapes and sizes of appliques add to the unique character of the product.

---

Tanti Colori: Sand and Stone Collection of contemporary handmade pillows
Sand and Stone Collection

Our newest pillow collection has been inspired by tranquility and elegant simplicity of Japanese stone gardens.

---
---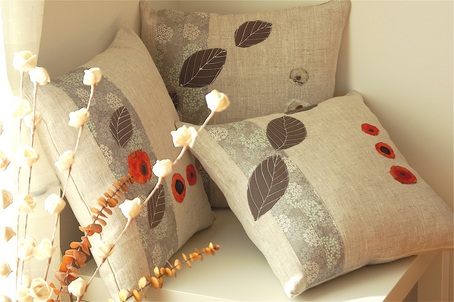 Tanti Colori: Romantic Collection of contemporary handmade pillows
Romantic Collection

Our Romantic collection of pillows is made of 7.5-oz linen fabric. Embellished with cotton in delicate floral pattern, birch leaves and a few poppies, these pillows are reminiscent of a simple life in a country house with a view of fields of flax in the summer breeze...


---
---
Modern Leaves Collection
This pillow collection is made of 100% linen in black, oatmeal and white colors and embellished with pieces of cotton and silk. Any of these pillows will add a burst of color and modern style to your living room or bedroom.
---
---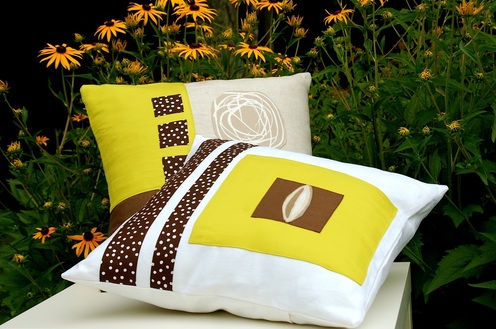 Tanti Colori: Organic Collection of contemporary handmade pillows
Organic Collection
Sandalwood brown, oatmeal, and white colors of linen with the addition of dotted cotton and vivid citron green silk give these pillows an organic feel. The perfect place for them would be in a Zen inspired interior.

---
---

Tanti Colori: African Collection of contemporary handcrafted pillows
African Collection
When we discovered this beautiful African textile, we knew that we had to incorporate it in our designs. This 100% cotton in brown, with black shapes circled in white, was printed in Senegal. Pillows are made of linen (in black, sandalwood brown and oatmeal colors) and cotton (yellow) and embellished with this unique African fabric.

---
---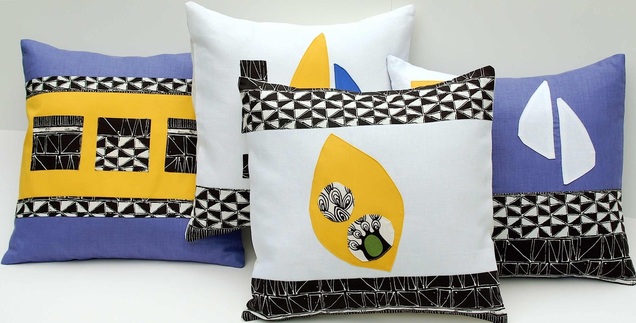 Tanti Colori: Summer Dreams Collection of contemporary handmade pillows
Summer Dreams Collection
This set of pillows is made of royal blue and white linen combined with plain yellow and graphic black and white cotton. Our inspiration for this series was sun, wind, and water. They will remind you how great summer sailing was!

---
---
© 2017 Tanti Colori. All rights reserved.